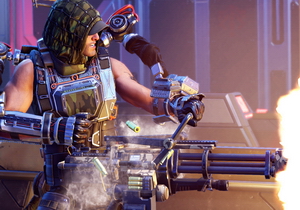 The Reinforcement Pack includes the following:
Anarchy's Children is a rebellion themed DLC featuring more dramatic soldier customizations. (To be released in Spring 2016).
Alien Hunters introduces new soldier customizations and gameplay themed around XCOM as an elite alien hunting unit. Face off against "Ruler" aliens with new, more powerful weapons and armor. Experience a new dramatic mission & confrontation. (To be released in Summer 2016)
Shen's Last Gift introduces a new soldier class with unique upgradeable weapons, armor and customization features, and a new narrative-driven mission and map. (To be released in Summer 2016).
SYSTEM REQUIREMENTS
Minimum Requirements:
OS: MAC OS X 10.11 El Capitan
Memory: 4 GB RAM
Processor: 2.4GHz
Hard Drive: 32 GB available space
Graphics: 1024 MB
Recommended Requirements:
OS: MAC OS X 10.11 El Capitan
Memory: 8 GB RAM
Processor: 2.7GHz
Hard Drive: 32 GB available space
Graphics: 2048 MB